Dula makes products from natural and organic plant and plant-derived ingredients that not only soothe your skin woes but work to repair them too.
Dula offers you natural vegan skincare products handmade in Sydney, Australia. The journey started with founder, Georgia Webb, becoming increasingly dissatisfied with the current consumerist climate and it's breeding of wasteful habits and mentalities. Ceaseless plastic packaging and synthetic ingredients that we cannot pronounce are not circumstances that we should be docile to. They're bad for the environment and bad for your body. Phthalates (found in creams, deodorants and nail polish) disrupt hormone production, which can lead to developmental and neurological damage, and formaldehyde (commonly found in eyeliners and pressed powders) is a known carcinogen. It's crazy that these substances are still found in mixtures we put onto our bodies.
Dula. Natural Vegan Skincare.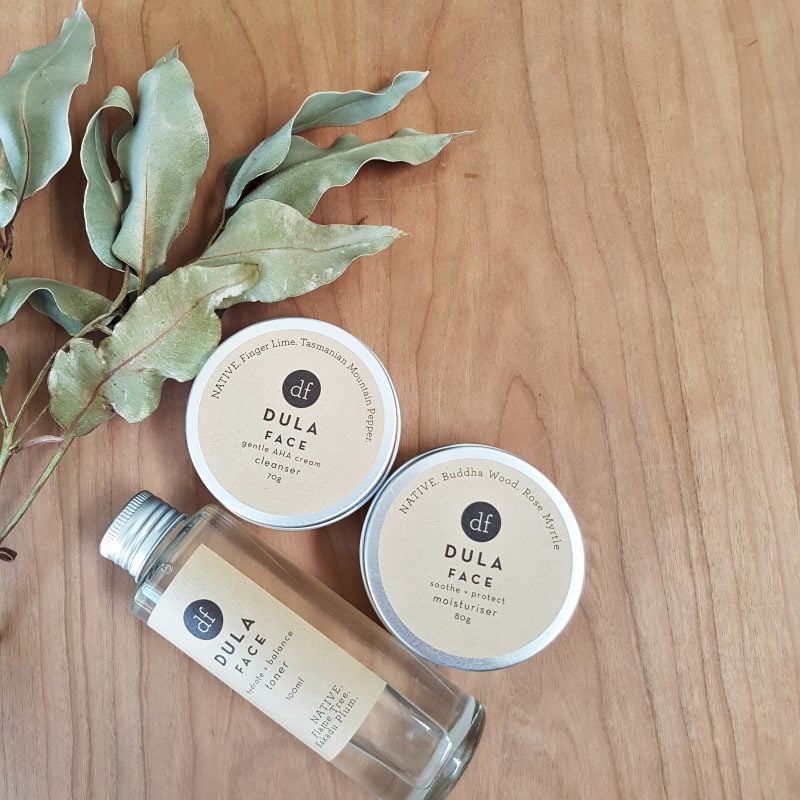 NATIVE Australian botanicals Cosmetics.
The NATIVE range encompasses a variety of different skin products formulated using various native Australian botanicals.
Dula believes it is important to live off the land from which we come, and whilst it is a little unrealistic to expect such a globalised world to consume products from local regions exclusively, we can certainly benefit from sourcing at least some of our ingredients or products from this beautifully unique country which we call home.
DO SKIN WELL. The driving words behind this collection means a range of skincare that is formulated to be gentle and kind to your body. It means effectively improving the appearance of dry, damaged or unhappy skin. It means skincare that doesn't harm the earth with harsh synthetic chemicals. It means being kind to our animal cousins by avoiding animal derived ingredients and animal testing. It means skincare products that have minimal packaging and minimal plastic across all stages of business.
There's a lot of meaning in this product line, Dula is a little ambitious, but feels it's necessary. Perspectives are changing and it's time for a skincare line that is good.
Do skin well.
Balm.
Various products specifically formulated to be gentle and nourishing for your delicate lips.
DULA balms are soft and silky and will soak into your skin quickly to deliver maximum nourishment.
Lips, cuticles, elbows, you name it. These balms are great on any concentrated area of dry skin.

Fierce Relief. Make way; this is one powerful concoction of oils! DULA Fierce Relief balm will help alleviate you of muscle pains and itchiness from insect bites, as well as soothing nasal congestion and dry coughs.
Accessories
Various sustainable tools and accessories to make you skincare routine a little more luxurious and a little more green.
Want to know more about all the amazing ingredients DULA uses in their products?
Head over to their Ingredient Directory
NATIVE Press Release