Fire Poi Set with 50mm Wicks
This 2″ Fire Poi set is great for beginners ready to light up for the first time or poi spinners just wanting to advance. 
Flame

Made with our smallest wicks means it's a smaller flame and is ideal for the novice twirler.
SoftPoi
Threeworlds SoftPoi ends are all wick and none of those hard metal parts. This means they don't hurt when they hit you (when they're not on fire) and without the metal inner, there's more wick so they burn longer too. Bound with 1.6mm stainless steel cable, for increased life and safety.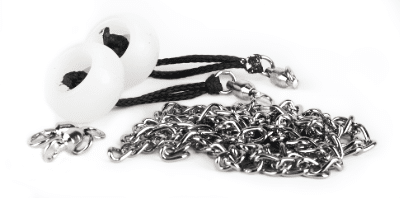 Refined
Our Fire Poi have been streamlined to reduce the points of friction and causes of tangles. Combining parts, and completely removing the need for others has helped us create a poi that is seamless from handle to flame.
A Grade Materials
The best in the industry Kevlar Wick ends.
Curb chain manufactured in the USA.
316 Stainless Steel Cable and Components.
Soft and Comfortable Silicone Handles.
Product Specifications
Full Length
Small = 600mm
Large = 700mm
Kevlar Ends
Soft Poi Design
Width = 50mm
Length = 570mm each end
Thickness = 3.2mm
Welded Curb Chain
Width – 2mm
Silicone Knob Handles
Material = Silicone
Width = 20mm